Christo IT Cloud Solutions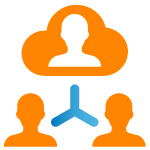 For some customers, it might make sense to use the ChristoCloud™, which are cloud services that allows you to work as though you have a server, but everything is stored and maintained remotely. Our ChristoCloud™ IT Solutions offerings provide all the advantages of having a server–without the upfront investment. Plus you'll still get the Complete Care™ Experience and all the IT consulting services and network support that go along with it.
Why Choose Cloud Services
Many businesses are switching to cloud computing to further organizational growth and expansion. To be sure, having remote access to data anytime, anywhere offers increased flexibility as well as a greater opportunity for innovation. Using ChristoCloud™ means that you won't be restricted by your on-site resources. Remotely located employees have the ability to access applications and files from the cloud. ChristoCloud™ also allows you to experiment with a variety of applications that will best fit your business needs; plus, we make sure that all software is up-to-date.
Consider the convenience of storing your files and accessing them from any web-enabled interface. And the cost of using ChristoCloud™ can be significantly lower than traditional alternatives, since you will only be paying for the amount of storage you use, without having to worry about maintaining the storage infrastructure.